Program year two: September 2016- September 2017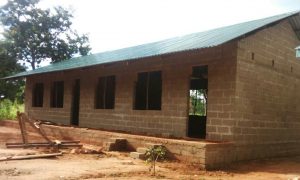 Our partner TDT visited Marumba for one day on 23 January 2017.The purpose of the visit was to see all the projects jointly funded by TDT and eu can aid!, to discuss their benefits with villagers and to listen to their future plans. The visit coincided with a 'siku kuu' or special day when more than 300 villagers gathered to celebrate our partnership, to dance and listen to speeches from leaders, including the District Executive Director.
Primary school phase two: new classrooms, new toilets and two plastic water tanks collecting rainwater from the roof
Already in December 2015, during our first visit to Marumba, we could see how primary school needs still are relevant. In accordance with the local TDT representative and the villagers, we decided that the second year of the program would focus not only on new classrooms constructions but also on sanitary facilities implementation.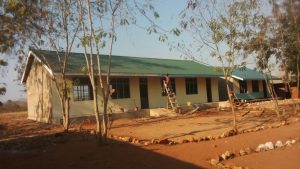 The new Head teacher at Marumba primary school is Ankum Chalamanda Selemani, appointed in January 2017, an energetic man who will be keen to improve his school with our support.
After year one classroom construction, there remained a severe lack of classroom space. Classrooms are very overcrowded and many children are taught in the open air. What is more, all the toilets are dilapidated and beyond repair. There is no water supply at the school so hand washing is impossible. The nearest water source is 2k away. Collecting rainwater from the school's roof and the construction of new toilet were of clear evidence and need.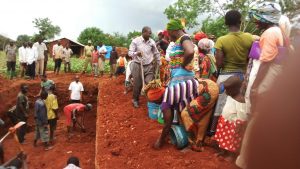 The construction for the two additional classrooms is finished. Villagers have been helping the workers by bringing them water stored in small pits, sand and stones; their labour is their contribution to the project.
The new toilets have been constructed (four for girls and four for boys); the plastic water tanks (each 10,000 litres) are in use and collect properly the rainwater.
eu can aid! and TDT financed this installation with a global cost of 15,000€.
Addition note: in program year one we funded a borehole. This was supposed to be dogged at a certain depth but the technicians found the water at a higher level with the consequence that part of the awarded money was saved. This amount has been used to make a fence around the borehole.