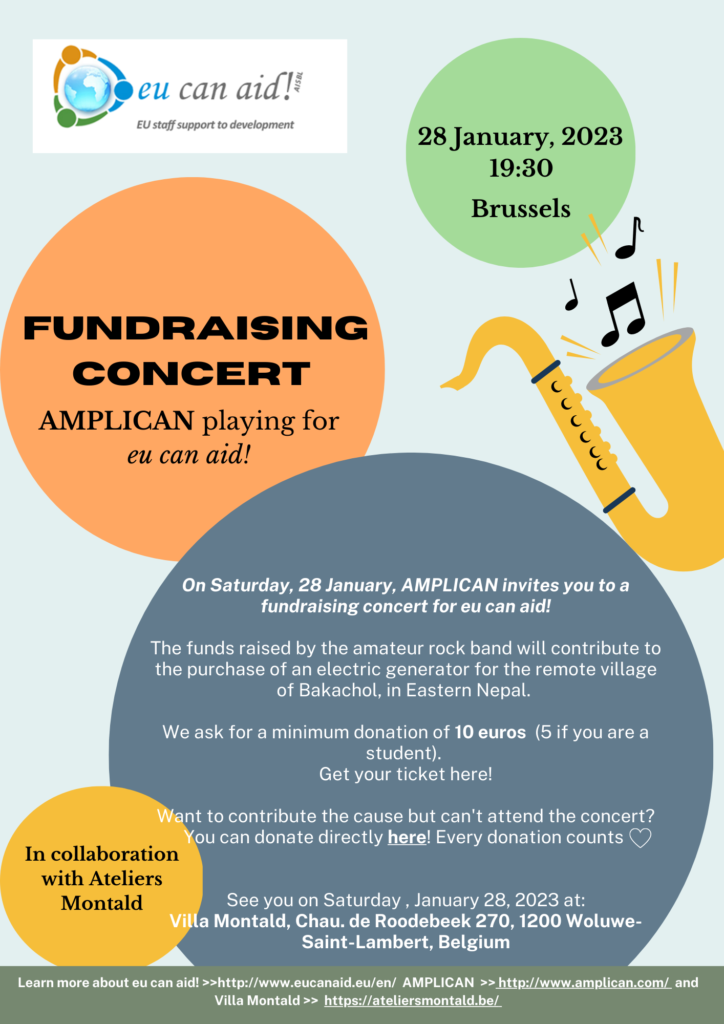 Concert for Solidarity
On Saturday, 28 January, 2023 AMPLICAN invites you to a fundraising concert for eu can aid!
The funds raised by the amateur rock band will contribute to the purchase of an electric generator for the remote village of Bakachol, in Eastern Nepal.
AMPLICAN
Amplican is an amateur rock band based in Brussels. The band got together 5 years ago and plays a range of instruments. Amplican mostly plays popular music and support good causes contributing with good sound
Learn more about the band here
Ateliers Montald
The fundraising concert will be hosted by Ateliers Montald – an inter-generational music school for babies (parents), children, teenagers, adults and pensioners. The center is located in the heart of Woluwé Saint-Lambert and offers courses, workshops and trainings throughout the year!
Learn more about the cultural center and its activities here
Bakachol community
The money collected during the event will go to Bakachol community, living in a remote Nepalese village. Electricity is a way to build an improved ecosystem and ensure a better life for the young generation.
Read the story of Bakachol here
Your contribution
We hope to see you at Atelier Montald. But in case you cannot make it and yet wish to support Bakachol and its community, we welcome your donations. See the bank account details here. Please add 200/0007/49901 in the reference line when making the bank transfer.
Tickets
We ask for a minimum donation of 10 euros (5 if you are a student or a trainee). Get your ticket !
Address of the event
Atelier Montald, Chau. de Roodebeek 270, 1200 Woluwe-Saint-Lambert, Belgium
Thank you!